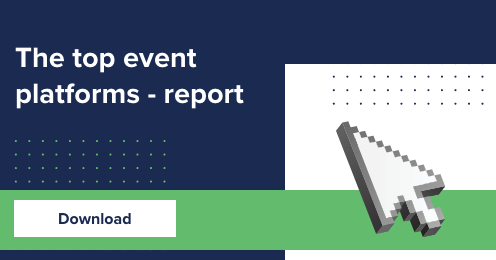 The top event platforms - read our report
---
more than 90 platforms
technical solution
platform functionalities
detailed list: prices, integrations, possibilities
Fill the form, download pdf and stay in touch with us!
We live in times when various types of events such as conferences, webinars, and company meetings are more and more frequently organised online. Such solutions are very popular due to their convenient form, low organisational costs and many benefits for both participants and hosts. Moreover, they have a positive impact on the environment and help to reduce CO2 emissions. Nevertheless, to prepare and stream such a meeting, you need professional virtual event platforms.
What are the benefits of virtual events and conferences?
A virtual event platform is a tool that allows you to reach more people, promote your event and reduce costs, both for participants and organisers. When faced with the choice between a traditional, hybrid, and fully virtual event, it's worth keeping in mind that:
the popularity of virtual events is constantly growing, as an increasing number of people use the Internet,
the costs of organising a virtual event aren't influenced by the number of participants,
virtual events are available for everyone who wants to take part in them. There is no location barrier, 
virtual scientific conferences and webinars are a great way to increase the recognition of the scientist/author/company and to inspire trust among the audience.
What to pay attention to when choosing event management platforms?
If you want to choose top event management platforms, you need to consider factors such as:
budget,
data security,
technical features you want to access,
integration with other applications and available functionalities (streaming, expo zone, networking, sponsorship and advertising options) offered by the chosen platform.
That's why it's so crucial to analyse your business goals, target group and expectations from the event management platform before you make up your mind. Download our report which contains an overview of the most important virtual event platforms, together with the description of their technical features, prices, and functionalities.
We realise that the e-book is quite lengthy, so remember that we can help you choose the perfect option tailored to your needs. Contact us and ask for a free quote!