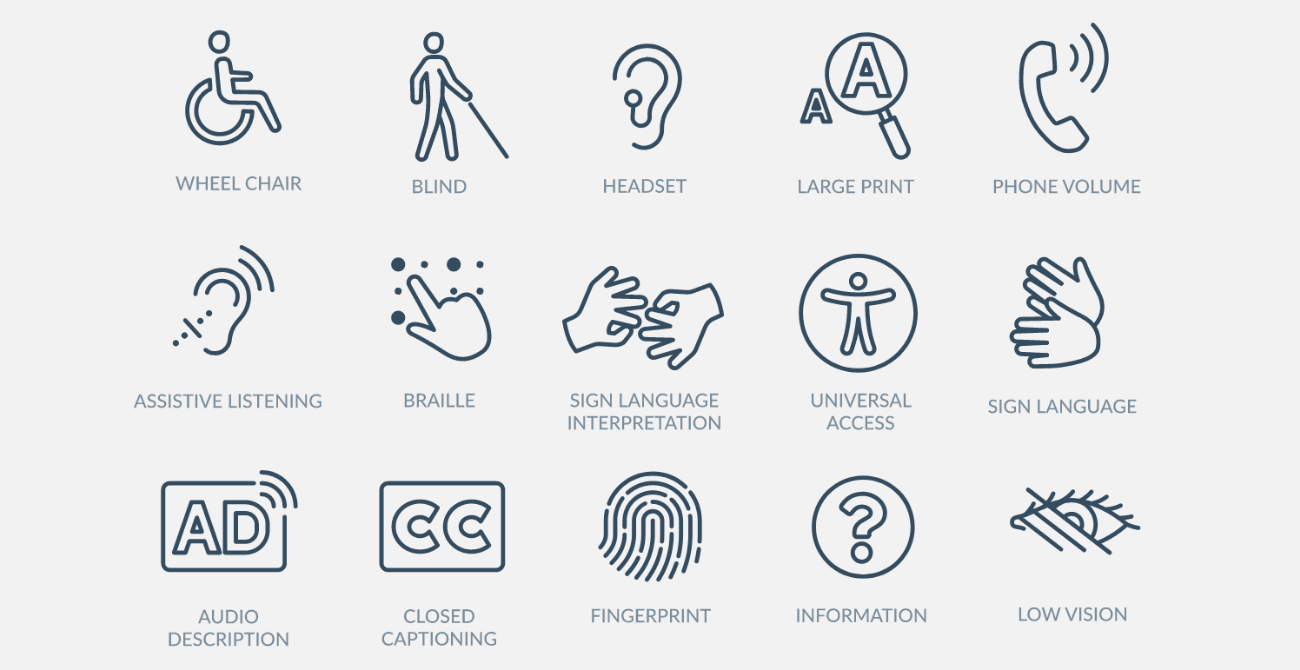 How to organise an online conference for people with disabilities?
The transfer of most meetings, conferences and learning to the online world is a fact. What needs to be worked on now is digital accessibility, to ensure that everyone, regardless of the degree or type of their disability, is able to enjoy the benefits of the online world.
What is digital accessibility?
Put simply, it is the set of features for websites and mobile apps that make it easier for people with disabilities to read the content. We are talking here about people who are blind, deaf, partially sighted, with speech disorders, photosensitivity or complex disabilities, as well as the elderly or people with learning difficulties or cognitive limitations.
In Poland, the Act of 4 April 2019 on the digital accessibility of websites and mobile applications of public entities and the Act of 19 July 2019 on ensuring accessibility to people with special needs are in force. Our country also observes the UN Convention on the Rights of Persons with Disabilities. Article 9 of this Convention deals, among other things, with the prevention of digital exclusion. In 2012, the Convention was ratified by the Polish President, and Poland undertook to provide people with disabilities equal access to information and communication, including technology, as well as devices and services.
Digital accessibility of websites and applications
In order for a website or mobile app to have the feature of "digital accessibility", it must meet certain criteria that are measurable and specified in the Annex of WCAG 2.1. This document describes four key features of digital accessibility:
perceptibility
functionality
intelligibility
reliability
Importantly, these requirements also apply to internal sites – such as intranets or extranets. The Act also provides for the obligation to place an accessibility declaration and sets out the rules for monitoring digital accessibility.
Digital accessibility of public entities
The law in force in Poland currently applies mainly to public entities, of which there are over 60,000, with some institutions even running over a dozen different websites. It concerns not only local government offices and institutions, but also non-governmental organisations, especially those that work for the protection and promotion of health, and of people with disabilities or of retirement age. Why is digital accessibility so important? Many official matters can be dealt with only through a personal visit to the institution or via its website. That is why shaping a friendly digital space that is accessible to all is just as important as creating buildings or urban spaces without barriers. Although the Act imposes an obligation on public institutions to have websites with digital accessibility, it is also important that we make sure that the websites, apps and meetings we create are also user-friendly and inclusive, even if we are not required by law to do so.
Equal access
Accessibility is about providing everyone with the same opportunities, regardless of their level of fitness or limitations. Excluding anyone is not okay, it's that simple. No one is surprised that most public buildings are equipped with ramps for wheelchairs (or pushchairs and strollers!) and the same thing applies to constructing "structures" online. We should think about others – we may be different, but as people we all have the same rights.
A number of website solutions necessary for people with disabilities can also be useful for other internet users. By ensuring that the text stands out properly against the background, we not only help visually impaired people to read the content, but also the elderly, for example. By adding subtitles to a film, we facilitate access to the video not only for the hearing-impaired, but also for those who are not fluent in Polish. The semantic HTML that enables accessibility improves SEO results, improving our website's searchability and, therefore, its visibility. By implementing good practices that improve digital accessibility, we also care for the users of our website who use free internet connections. In short – we all benefit from implementing digital inclusion.
Are you organising an online event and want it to be accessible to everyone?
Great! Here are the key elements that you need to think about:
If you are going to create a website for a conference or event, digital accessibility should be considered from the concept planning stage. It is not expensive to implement, contrary to popular opinion, provided you don't make changes to the existing website or at a late stage of the project implementation. The sooner you start thinking about projects in terms of accessibility, the better. And it works out cheaper!
Listen! This is an important trait not only when working with the client, but also when dealing with the people for whom the event is being planned. If possible, carry out website tests with the participation of people with disabilities.
Make sure you have a sign language interpreter. This is especially important for live events. In the video materials made available after the event, add subtitles. You can choose from two options: "subtitles" (for spoken dialogue) and "closed captions" (which describe other sound effects in addition to any dialogue or a talk given by a speaker).
If the event takes place via a dedicated website, it is worth ensuring that it is simple to navigate via the keys on a keyboard. This will make your event more accessible to people with physical disabilities.
Think about having an audio description. This is a description of the content that appears on the screen, adapted for visually impaired people. If your event includes graphic materials or other non-verbal messages, in addition to talks given by speakers, having an audio description will make it easier for the blind to have access to the event.
Watch how others do it – gain experience and learn from the best. A good example is Microsoft, the digital giant whose mission may sound very general but which has actually been including guidelines for the materials it produces for a number of years. These guidelines are much more restrictive than those imposed by the Act. Microsoft's philosophy is to think first about accessibility, and then about meeting the requirements of the law.
Remember that there is no such thing as 100% digital accessibility. It is an ideal that we strive for, but it is also a process. Even if you are not able to meet all the requirements, try to enter into a dialogue with the participants of your events – ask for feedback, ask what you can improve in the future and what improvements the users need. Taking care of digital accessibility is not only a moral obligation but also a sign that you are thinking about all members of society.