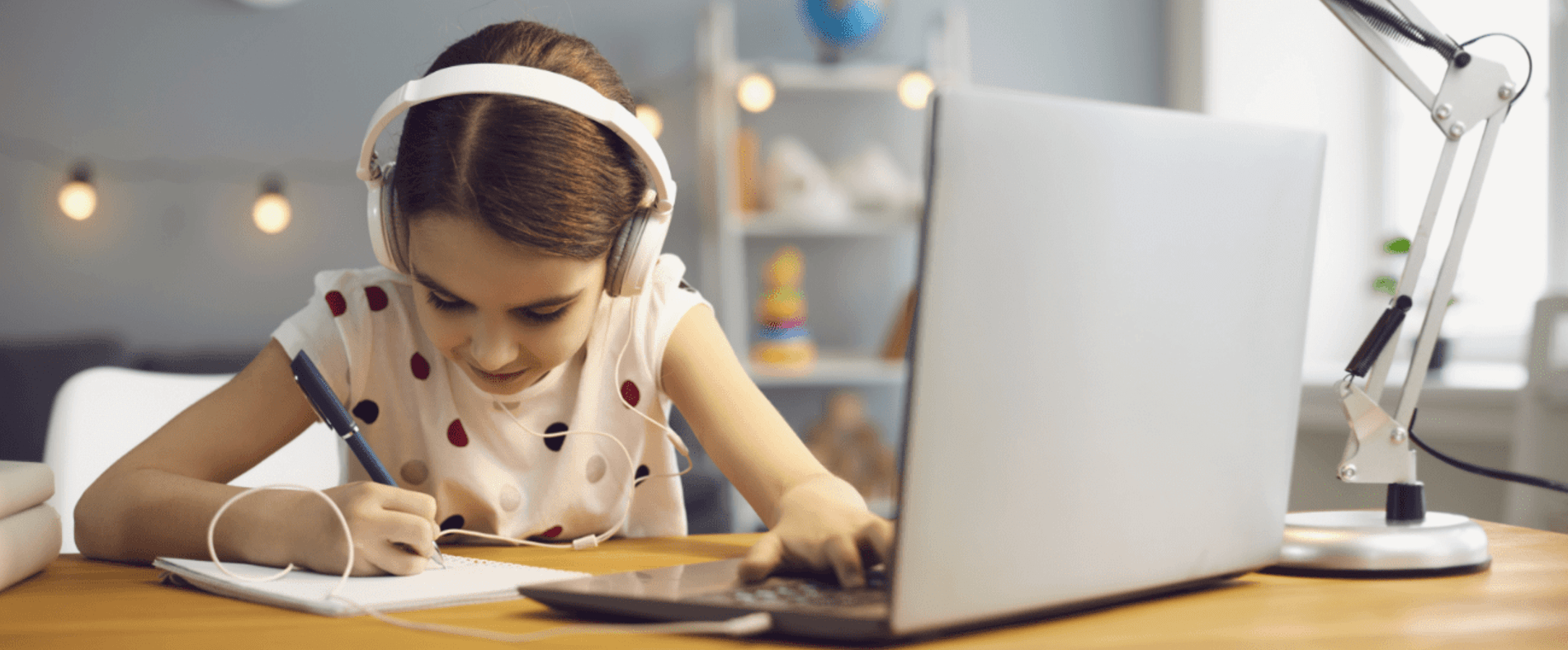 More than a year has passed since the start of distance learning, and we've all learned a lot about how to learn (pun intended)! Remote education is an issue that directly affects everyone's lives. Even if you aren't a teacher or a parent, our common future depends on the education of today's preschoolers, pupils and students.
Distance learning – on 12 March 2020, on-site teaching and educational activities were suspended in all Polish schools and kindergartens, and then a few days later childcare activities were also stopped. From 25 March, compulsory distance learning was introduced and this is the date when education changed forever. The beginnings were not easy. For most school principals and teachers, but most of all for the students and their parents, switching to remote mode was a leap into the deep end, with little prior preparation. It should be noted, however, that the remote learning mode, which is an element of the increasing digitalisation of education, is not actually a "pandemic invention" at all. Some schools had already tried out various tools and trained their teachers on uniform communication platforms. These establishments were the ones that handled the transition to remote mode the best.
In terms of distance learning, there is still a lot to be done and there are many aspects that may have escaped our attention or that we could improve. However, based on our own experience as parents, and also as an agency that organises conferences and online meetings, we have put together some tips to make remote learning as effective as possible and to enable it to take place in comfortable conditions.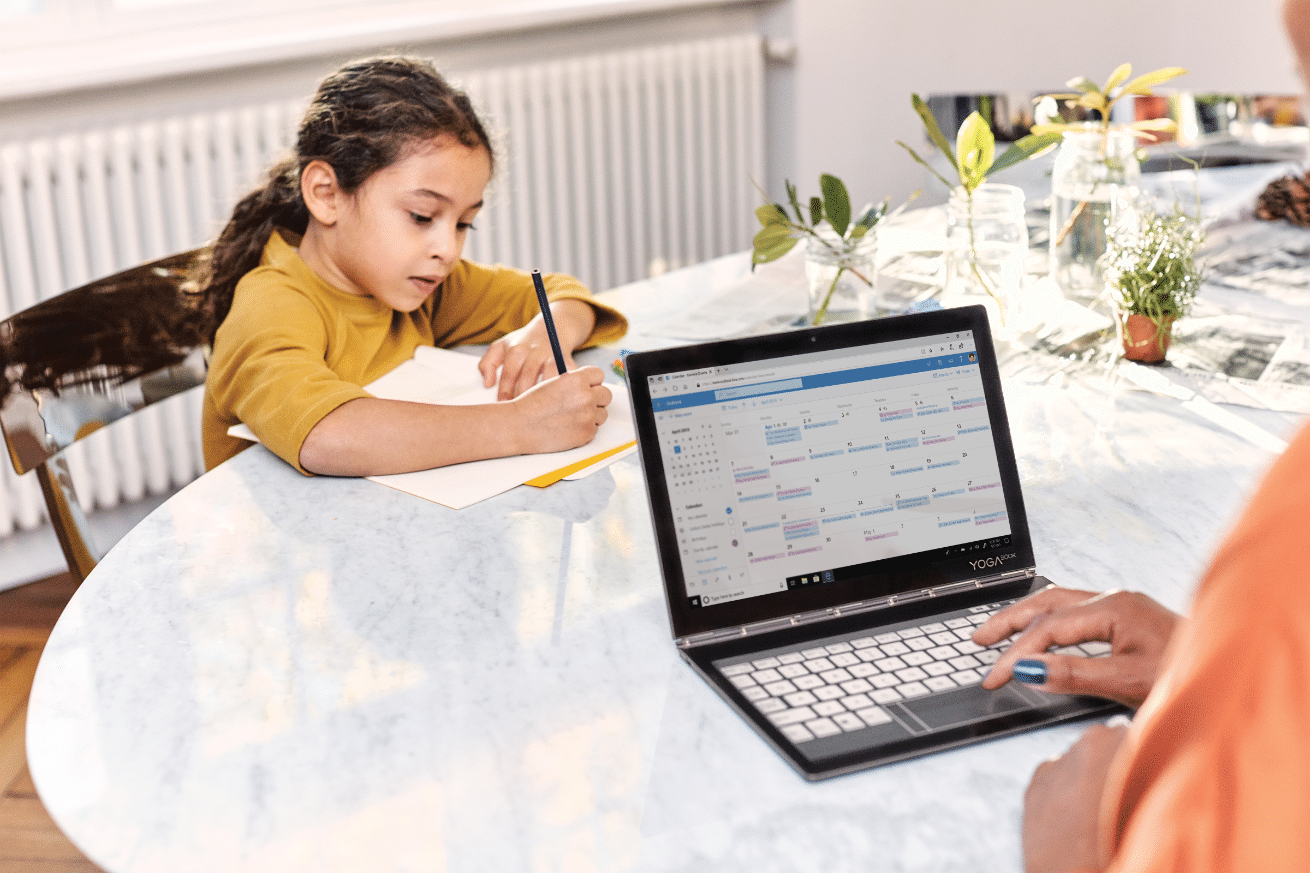 Tips for distance learning
1. Peace of mind
It's easy to say, harder to do, but staying calm and keeping your composure are really important. It always seems that the more agitated we get, the more technology starts to work against us. That's the first thing to bear in mind, but now for some more specific advice...
2. Arrange your space
Proper preparation of the study or work space is essential. Make sure that it is separated off (as far as possible) from distracting elements like a TV set or radio, or other members of the household bustling around. It is also important, if possible, to separate the place for learning from the space where your child rests or performs other household activities. If you can, set up the desk so that the background behind it doesn't provide a "view" of the door, a busy part of the house or flat, or a window. These can all be distracting or problematic for your child. Make sure they have adequate lighting, a comfortable ergonomic chair and a proper desk. In order to be able to participate in remote learning effectively and without disruptions, your child needs to have internet access with a high bandwidth. Sometimes you may find that it's best to use a network cable rather than wi-fi as the connection tends to be more stable.
3. Which computer to choose so as not to go bankrupt?
A remote learning computer doesn't have to be a new, super-fast machine with high parameters, but it should be able to handle basic teaching applications like Teams, Zoom and Google Meet.The parameters that such a computer should have are:
- Intel i3 or i5 class processor
- 4GB RAM
- SSD drive with 100GB capacity.
Make sure the computer is in good shape, and remember that it's a tool for communicating and performing tasks. If your computer is unstable, shuts down or freezes a lot, it will make it difficult to learn and your child may not keep up with the rest of the class.
Online auction sites and stores offering post-leasing equipment are excellent places to find good models that will not stretch your budget too far (250 euro should be enough). Keep an eye out for business laptops as they generally have better technical parameters, a sturdier construction and better matrices. Models that can be recommended include:
- DELL Latitude E5440
- Fujitsu Lifebook E734
- HP ProBook 640 G1
4. A window to the world
If your computer or laptop doesn't have a built-in camera, it's worth buying an external one. It is not exactly crucial, since it's the student who needs to be able to see the teacher well, but it shouldn't be completely disregarded. Having a working camera also helps with self-discipline during remote lessons. Here are a few models that can be bought for a reasonable amount:
- Microsoft LifeCam HD-3000
- Logitech HD Webcam C270
- Xiaomi Mi IMILAB Webcam 1080p.
5. Sound is the basis
If it's noisy in the place where your child will be learning, or the conditions just aren't convenient for using speakers, it's a good idea to get a pair of headphones. Remember that your child will wear these headphones for several hours a day, so it's best to avoid in-ear headphones. After using that type of headphone for several hours, your hearing can become very tired. Here are some comfortable models that we can recommend:
- Sennheiser
- PC 5 CHATLogitech H390
- Jabra Evolve 20 MS Duo
6. Good advice that no-one asked for, but which everyone needs
If several people need to work on one computer, or the computer is also used for entertainment for the rest of the family, create separate profiles on the computer – where each user has a separate profile. Try to avoid situations whereby several people can use the same device by entering their login details in an email, or on websites or apps. This will also make it easier to divide the time between study and entertainment.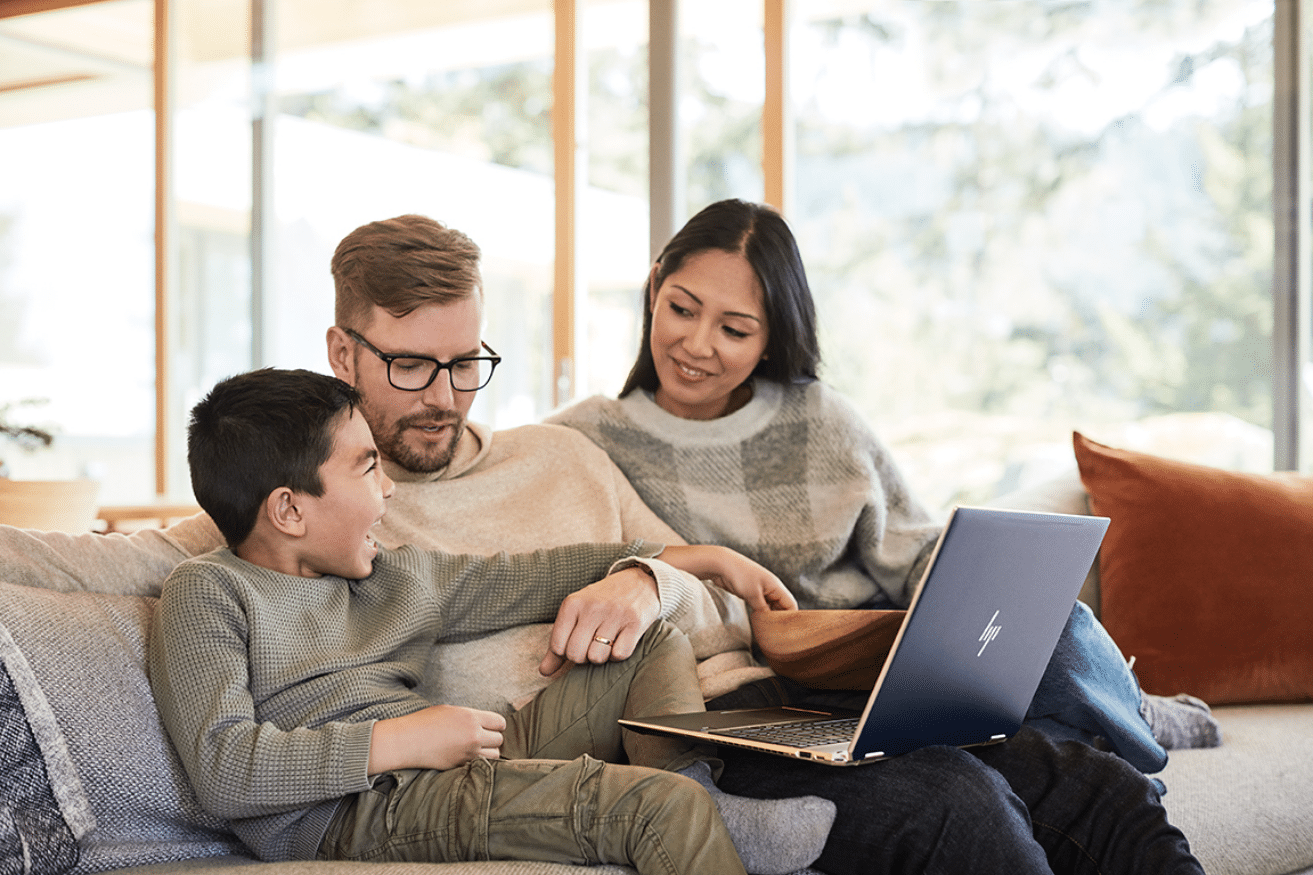 7. Tips for Microsoft Teams
Microsoft Teams is a great tool for remote meetings. Unfortunately, there are times when you can see other people in the frame or there are things in the background that you don't want to make public. MS Teams has a number of useful features that are worth bearing in mind.
How do you blur the background in Teams?
It's very simple: before joining your meeting, turn on the camera and click the Blur Background slider. After enabling this feature, you will see a preview of your camera view with a blurred background. If you have the latest version of Teams, the Background Settings menu will appear on the right-hand side of your screen. Choose the first option from the list and confirm your choice by clicking Apply.
On the camera preview screen, you will see a view of your camera with the filter applied.
If you're taking part in a video call or your meeting is already underway, click the More Options icon (three dots) and select Apply background effects.
On the right side of the screen, you will see the Background settings menu again. As in the previous case, select the Blur option and click Apply.
How to change the background in MS Teams?
In the Background settings menu you can also set a picture background. Choose the option that works best for you and click apply. You will notice the differences on your camera preview.
How to set a custom background in MS Teams?
You can also add your own graphic or photo. Remember that the graphic you add must meet several requirements, you can see them by moving your mouse cursor over the Add new button.
To add your background, click the Add New button, then select an image from your computer to upload. The new image will appear under the suggestions from Microsoft. Select it and you're done.
Raising your hand in a Microsoft Teams meeting
Remote calls over the internet can be chaotic. Microsoft Teams has a feature that lets you signal when you want to speak without interrupting or cutting in on somebody else.

Just click the hand icon in the Teams chat function bar. Raising your hand during a meeting will display a hand icon to all users with the name of the person who wants to speak.
When more than one person raises their hand, the username will be changed to a number. You can see everyone with their hand raised in the list of participants in the conversation or meeting.
Saving important messages in MS Teams.
In a school environment, we can have a lot of conversations and important information can often get lost in the hundreds of messages sent and received. If you want to save a message for later, MS Teams lets you do that. By clicking on More options (the three dots icon) and selecting Save this message, the message will be archived.
To read saved messages, click on your photo in the upper right-hand corner and select Saved.
When more than one person raises their hand, the username will be changed to a number. You can see everyone with their hand raised in the list of participants in the conversation or meeting.
8. Tips for Zoom
Blurring the background during Zoom meetings
In the Zoom app, you can blur your background or use a virtual one. Click the drop-down menu next to the camera, and then select the appropriate item. We go to one of the tabs among all settings..
You can also access all the settings by clicking the dial in the top left-hand corner and then the gear icon.
You can also add your own background (static or animated) by clicking the plus sign above the backgrounds, and then after selecting the appropriate option, select the file in the explorer system selection window.
Raising your hand on Zoom
When using Zoom, you can also signal to speak by raising your hand. Just press the Raise hand icon on the bar.
Better Zoom sound quality
In Zoom, you can turn on the professional audio option – this bypasses the many filters that modify and optimise the sound and uses a higher audio bit-rate, which will make your sound more audible. This option is worth using when playing audio or video files (watch out for the sound source and fps for videos), but it shouldn't be overused, e.g. during a normal microphone conversation, because it places an additional load on both your connection and that of your interlocutor. You can turn the option on in the audio settings (the name of the option varies depending on the version of Zoom installed) by clicking the Turn on Original Sound button in the upper left-hand corner so that it is highlighted in blue.
9. Tips for Google Meet
Blurring the background in Google Meet meetings
In Google Meet, you can set a virtual background by clicking the three dots in the lower right-hand corner and selecting Change background.
Then select a background from the prepared ones or add your own using the plus sign.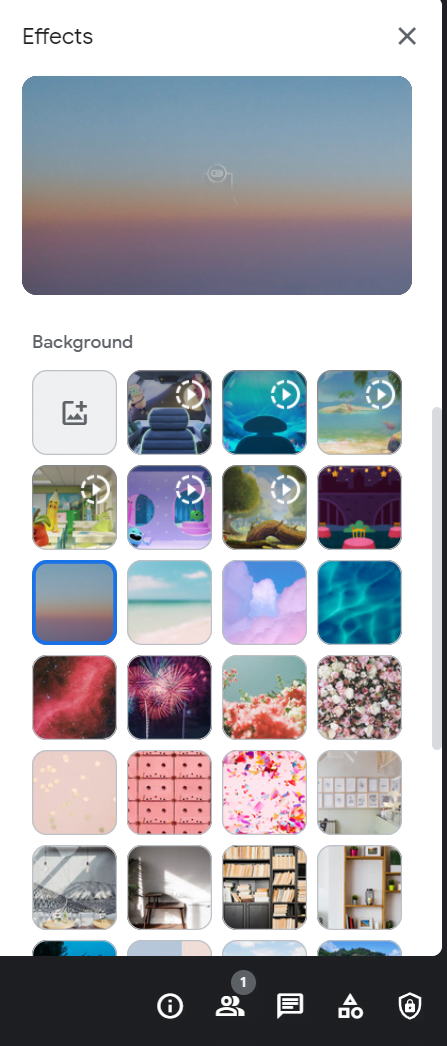 10. Big Tech goes to school
Technological giants have recognised the need to develop tools and solutions that support distance learning. The best example is Microsoft, which has been working closely with the educational world for many years. Microsoft offers tools that facilitate the running of online lessons, and publishes materials that teachers and students can access from anywhere in the world. It's also a way to collaborate, solve tasks, publish content and organise meetings from the comfort of your own home. Microsoft also runs a series of webinars and prepares training materials for teachers, principals and school IT administrators that introduce them to the world of digital education and provide a platform for the exchange of experiences.
---
Is the future going to be remote?
The pandemic that changed the world will end sometime, but the changes it has caused will stay with us for much longer. It is already known with certainty that the models of work and education in the remote or hybrid mode will remain even after students have returned to school. Educational institutions have better and better infrastructure and are working on shaping the digital skills of both students and educators. What a year ago seemed to many people a temporary solution (and, to be honest, was often introduced chaotically) is now slowly becoming a new, ordered standard. Expanding educational models and adjusting them to the realities of the changing world, leaving the choice of work or study mode, is still a great challenge but also a great opportunity. Even if you are sceptical about distance learning, it is worth looking at this model as an element of social change with many advantages – including inclusiveness, equal opportunities and the fight against digital exclusion. It's always good to keep your head open to new things. After all, we continue to learn all our lives.