This event consisted of three online meetings broadcast from a studio in Krakow on 21-23 June 2021. The topic of the first day was clean transport, with the guests discussing public transport solutions in cities and suburbs and how to improve air quality, taking the example of Krakow and the so-called Krakow "Bagel", comprising the municipalities bordering the city of Krakow. On the second day, representatives of the national and local governments appeared in the studio to answer the fundamental question: How to quickly solve the issue of high smoke emissions [from the small, inefficient coal-fired stoves used in the detached houses around Krakow]? The report "The Road to Clean Air" was presented, which also constituted the starting point for a discussion among the panellists. The third day was devoted to the situation of the emission of pollutants in industry at the local level.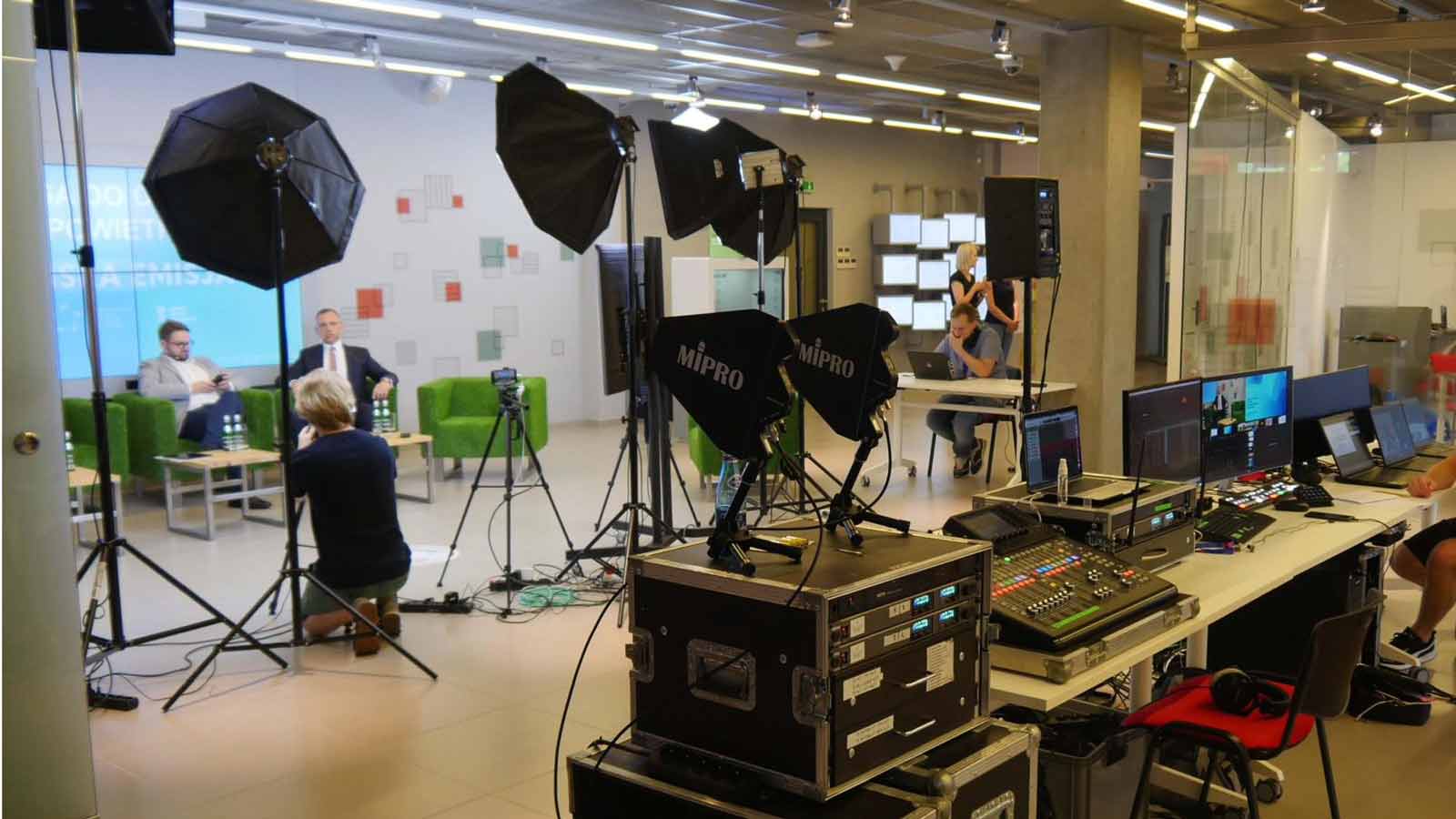 Online Smog Alert
The three-day event took place in a specially arranged studio in the Krakow Technology Park. Each day there were discussions between the participants in the studio and speakers connecting online. The participants watched the online meetings on the Evenea platform, where they could ask questions, comment and post their opinions on the speakers' statements. Each event in the series had the format of a webinar, where the speakers gave prepared presentations in order to share their knowledge and solutions regarding clean air.

Initially, the organisers expected that the number of participants would be around 100 listeners a day, but the final result far exceeded all expectations. In total, over 900 people took part in the three-day event!
The Lively team working for clean air
The Lively team was responsible for preparing the space where, in cooperation with Spice4Space, we arranged a professional TV studio. Our task was to take care of the lighting and sound-rigging in the studio, as well as conducting the online broadcasts. Throughout the week leading up to the event, we were signing people up separately for each day of the conference. We prepared the Evenea Live platform for the participants, which allowed them to watch and participate in the event in a very accessible way. The stream from the event was sent in parallel to the Polish Smog Alert event on Facebook.
Online event statistics:
No. of people: 916
Platforms: Evenea and Facebook
Hybrid: some of the speakers were in the studio at the KTP, some connected remotely; all other participants were online
Duration: 3 days, 2.5 hours of live feed daily