Hybrid conference?


Check out how we do it!

CIMAM - case study
Our client
CIMAM Annual Conference. This year's event, held between 5 and 7 November 2021, had a hybrid formula - meaning we combined both: online and offline. It focused on the role of museums and artists in the social transformations taking place in a dynamically changing world. During three days of discussions, participants focused on two contemporary crises: rampant xenophobia and progressive climate change.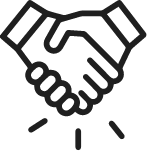 About the event itself
The 53rd edition of the conference took place in 2021, and it was the largest and most important international meeting of people managing museums and galleries of contemporary art, comprising three days of meetings for curators and directors from these institutions. Due to the international nature of the event, both the pre-conference communication and the conference itself were conducted in English.
What a hybrid conference is?
A hybrid conference allows you to combine traditional and virtual events.

By choosing this form of event, you can generate much larger reach, leading to your message being received by a much wider audience. Hybrid conferences are gaining in popularity, and more and more organisers are starting to appreciate this new combination of formats. On the one hand, you can invite selected people to a space where they can meet face-to-face, for example in your company's headquarters or at a hotel.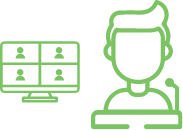 Challenge
We like conferences that are a challenge for us. The CIMAM 2021 Annual Conference entailed cooperation with several entities at once – two museums in Poland and the CIMAM headquarters in Barcelona. This meant operating on an international level, with many languages and different time zones. We managed everything, and were responsible, among other things, for creating a detailed schedule of the work, as well as the script and set design in Łódź and Gdańsk.
Sounds interesting? Download full case study and ready more about hydird conference and our cooperation with CIMAM. Just so you know – it is completly free! 😉